Papers, Please
Edit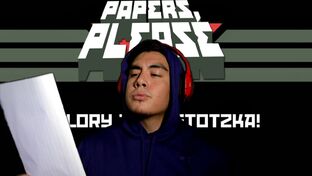 Papers, Please
is a game played by
Kubz scouts
Game information
Edit
Jay has played the game Papers, Please, an indie game from 2013 where the player checks passports and entry permits at the border to Arstotzka, the main country. The series has ended as of April 15th, 2016.
Episodes: 22
The playlist can be found here.
Jay's top 3 favourite characters mentioned
Jorgi Costova
Sergiu
Elisa
Quotes/Running Jokes
Edit
"DETAINED! GET THE FUCK OUT OF HERE!" - When detaining someone (bold used to emphasize)
Ad blocker interference detected!
Wikia is a free-to-use site that makes money from advertising. We have a modified experience for viewers using ad blockers

Wikia is not accessible if you've made further modifications. Remove the custom ad blocker rule(s) and the page will load as expected.